We're ready at work (electronics unplugged, shutters closed, anything outside brought in) and at home (water and non-perishables in stock, matches–or flint and steel–plus candles at the ready) so now all there is to do is to wait for Sandy's effects to be felt.
What to do while waiting? Laundry, for one thing, vacuuming for another (day). And what else but obsessing?
First, the Curtain-along-kerfluffle continues. Found last night, a gown from Fairfax House in Essex (UK). Looks like a robe that goes over a lighter gown, shown here with a green silk underdress. And then there are the Kyoto Costume Institute's English gowns from Revolution in Fashion and Fashion.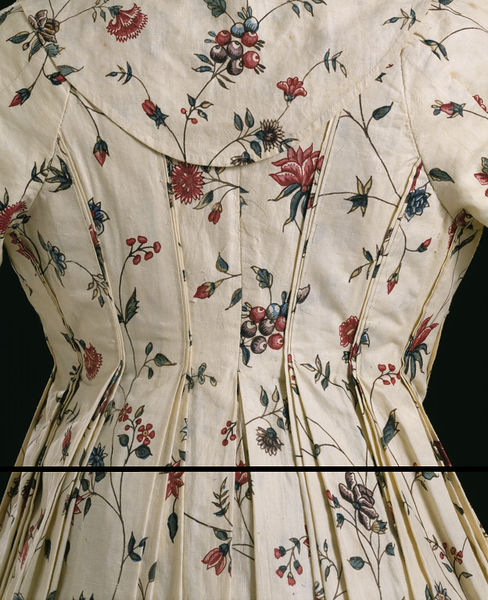 I also love the detail in the back of the V&A's printed cotton open robe, so in the end, what I may do is design a gown based on the principles of extant examples and fashion plates, rather than recreate an extant example.
Before any of that can really happen (sigh), I must have the right undergarments. I have been hunting up examples, and I may be able to adapt and refine the hand-sewn pair based on a set at the Met that I made to wear to Coggeshall Farm. I have to address those anyway because…the guys want to volunteer for winter chores in December, and needs must dress appropriately.
That puts me at a project list:
1. Refine, correct, beat into shape 1790s Met stays………………….December 2
2. Two pairs men's trousers (5-7 buttonholes each)………………….December 2
3. Two men's waistcoats ca. 1790 (8-10 buttonholes each)……….December 2
4. Finish grey workman's coat 1780-90 (12+ buttonholes)…………December 2
5. Undefined outerwear in wool for child (too many buttonholes)..December 2
6. Wool gown and petticoat, 1790s…………………………………………December 2
7. 1790s gown in Indienne print………………………………………………March 9
8. 1790s white cotton petticoat………………………………………………..March 9
9. 10th MA regimental coat, private's……………………………………….April 20 –or–
10. 2nd RI regimental coat, private's………………………………………….April 20—and–
11. 10th MA musician's coat……………………………………………………..April 20–or–
12. 2nd RI musician's coat………………………………………………………..April 20
13. Umm, excuse me, I lost track of the fun here……………..
Right. I note the lack of wool 1770 gown for April 13 here, or my quilted petticoat, or the floaty blue silk 1799 gown and blue wool spencer I want to make. It's hard to be dressmaker and tailor. Also not on the list above are the finer shift and white linen shirt that are in process in my basket, and the Williamsburg jacket of remnant reproduction print. At least that's an easy one, like making gingerbread. I have a pattern that works, I have the fabric, all I have to do is cut it out and sew.